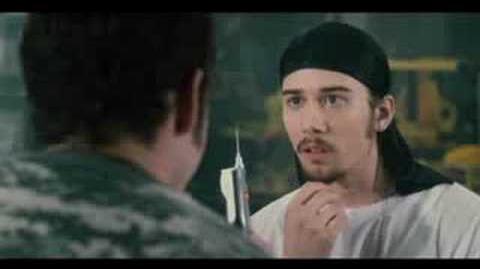 A list of the cast and characters from the movie sourced from the wikipedia southland tales page, cast section.
Characters
Edit
Boxer Santaros

Jericho Cane

Ronald Taverner

Roland Taverner

Private Pilot Abilene

Krysta Now

Fortunio Balducci

Madeline Frost Santaros

Nana Mae Frost

Senator Bobby Frost
Vaughn Smallhouse
Baron von Westphalen
Serpentine
Dr. Inga von Westphalen
Katarina Kuntzler
Dr. Soberin Exx
Simon Theory
Cyndi Pinziki
Bart Bookman
 Zora Carmichaels
Bing Zinneman
Dion Element
Veronica "Dream" Mung
Walter Mung
Martin Kefauver
Shoshana Kapowski / Shoshana Cox
​
Lieutenant General Teena MacArthur
Tawna McBride
Rick McBride
Caleb
Ad blocker interference detected!
Wikia is a free-to-use site that makes money from advertising. We have a modified experience for viewers using ad blockers

Wikia is not accessible if you've made further modifications. Remove the custom ad blocker rule(s) and the page will load as expected.